@Michele has developed a prototype of a simple android app that bridges Keycard with WalletConnect. For those who don't know WalletConnect, it's an open protocol for dApps (typically on a desktop non-web3 browser) to connect to a wallet (running on a mobile usually).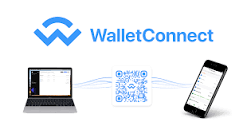 Here's a video of this demo:
You can see a user (@michele

) using a dApp (here HelioWallet) with a desktop non-web3 browser:
- Pair the dApp with Keycard.
This happens by scanning a QR code + tapping the card + entering the card pin. Easy.
- Interacts with the dApp and create a tx.
Here the dapp is a wallet, the user just decides to send some Eth
- Keycard app shows the tx that is being asked to be signed
- The user taps the card
- The dApp gets the signed transaction
By the way, there's a set of simple features on this app that makes it a cool and lightweight companion for Keycard, among which: initializing the card, importing or creating a secret in the card, change pin/puk/painring code of a card, and manage pairing slots of the card. Full list here.
Why does it matter?
Keycard and Walletconnect ecosystems can grow synergies
Here is the current list of dapps supporting Walletconnect WalletConnect
New dApps will be incentivized to integrate Walletconnect because Keycard is supported, and Keycard will benefit (more sales) from any new WalletConnect dApp

This solves the overall problem of how to use Keycard with a desktop
We've been thinking about his problem for a long time now, and were facing two issues mostly: this needs a supplementary hardware (a usb reader), this needs to download some supplementary software on the desktop (which is a pain).
Using Walletconnect is an elegant solution to this problem, isn' it ?

This creates new partnerships opportunities
Examples:
- A dEx could issue its own branded keycard to its users.
dEx like to integrate with hardware wallets, because they need a wallet to work with, and they need it to be secure. Keycard differentiator here compared to other hardware wallets is that it offers a very strong hardware security together with a super cost efficient price. In volume, it could be offered to users.
This is an opportunity to sell more keycards and grow the ecosystem.
These Keycard can be used with Status too.
- a dApp wants to create awareness by distributing keycard with its own brand in the real world

Keycard becomes a simple wallet (or identity) for any dApp to distribute in the physical world, without the user needing to pre-own a wallet
user gets the card, taps it on his phone, this downloads the walletconnect app, user can initalize his card and he's ready to go on his desktop browser

This partially solves the problem of a Status user that want to use a dApp with its Status account on a desktop
Let's say you're a Status user, you've set-up your first crypto account with Status, and are regularly using
Partially because:
-it's only for those users that have their Status account on a Keycard
-they could already do so by setting up metamask (by typing his mnemonic in Metamask for instance
-at some point we might have wallet connect or something similar in Status (Ricardo's proposition here)
What's next?
If we go further with this project
From a product standpoint

We need to build a UX
We need to port it to iOS
We've got a number of features we could implement to have a full fledged (but light) Keycard companion app, see here

From a partnership standpoint, as said, this opens up several opportunities that we should pursue with dApps

first with dApps that already integrate with WalletConnect, they're an immediate target
then for dApps that we feel would gain from integrating with Keycard+WalletConnect (I'd say online decentralized wallets like MEW or Heliowallet, and dEXs in a first step)