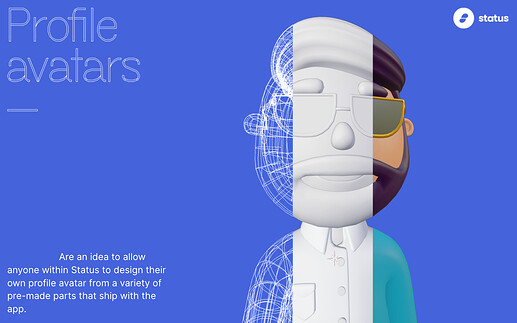 Identities (personal and community) inside of Status are a nuanced thing with many considerations including technical feasibility, best practice UX, and high privacy standards of Status. I say identities and not simply profile images or usernames as they are elements of a larger complex concept.
With that, we have received common feedback around current identities in Status when it comes to setting up a profile and identifying contacts:
Three word names are confusing to many and make it hard to identify people, especially when your contact list grows (local contact names should help rectify this)
Three word names are more or less useless if you do not read and understand the english language and alphabet
Ability to add a profile image is standard for messaging apps and a highly requested feature - this also ads a layer of identification to a profile.
The team (lead by @maciej, @samuel, and @hester) have come up with an initial concept for one element of our identity issue - Profile Visualization. We are looking for active participation and feedback on this for concept validation.
Please note, this is simply an early exploration given the considerations mentioned above (technical feasibility, best practice UX, privacy standards). Yes - of course we all love images and cool avatars, but that does not mean this is necessarily the right solution for Status. This also does not mean it will provide the highest ROI (financial and time) in striving for user growth and retention
---
Profile Avatars - Are an idea to allow anyone within Status to design their own profile avatar from a variety of pre-made parts that ship with the app.
The full concept is outlined with challenges in this doc. Please have a read through this deck for details, challenges, and example concept imagery.
Kudos @maciej for the clean presentation of the idea
---
Considerations & Open Questions
Are avatars an appealing solution to add a layer of identity to your profile (given the technical limitations of adding any image)
Does a profile avatar increase your likelihood of using Status? More so than simply having local contact names for your contacts.
Are profile avatars critical for your identity in Status?
If you are managing a community, do profile avatars provide a solution/identity for your community?
With many variations of avatars, would they provide desired privacy in Status?
Please let us know what you think in in this thread. We will take all feedback and ideas in crafting the best solution.