I'd like to present the refreshed and improved Keycard Connect app for Android!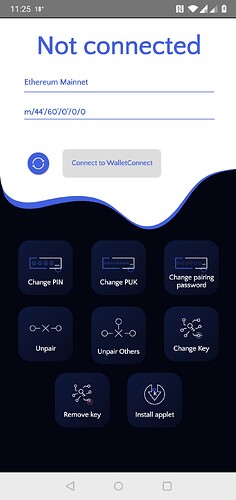 Changelog
New UI
Added EIP712 support
Support xDAI network
Support mobile links
Allow change network/wallet while connected
Added connection status/disconnect button
Better error handling
Bug fixing
Download from: https://github.com/status-im/keycard-connect/releases/download/20201022/KeycardConnect-20201022.apk
What is Keycard Connect
For those who don't know Keycard Connect, it is an Android app briding Keycard with WalletConnect. You can access any dApp which supports WalletConnect (now mobile links are supported too, so you can use the same phone for both the dapp and the client), including Uniswap, MyEtherWallet, etc.
Additionally, it supports all of Keycard's functionality (including applet reinstallation), so it serves a toolbox for Keycard.
Team
The Status team working on this during this week was @guylouis and myself. However a huge thanks goes to Ksenia for designing all the new icons and the screens, without her help we wouldn't have came as far.